In this DIY campervan conversion walkthrough, you'll get a glimpse of what my completed budget Ford E-150 van conversion looks and a detailed guide of the van build process. Converting a DIY campervan is by no means easy, trust me I've been there. I created this van conversion guide for anyone looking for some guidance in their self-converted campervan journey.
If you have any questions about my van conversion, other van builds, or van life as a whole, please let me know in the comments below. It's likely someone else has the same question and can benefit from seeing the answer, too!
Oh, one more thing, this is a hefty guide with a ton of answers. If you want to save it for later in a handy spot on your phone or computer, download your free Ebook below. It's all yours.
What You'll Learn About My DIY Campervan
A brief overview of what you can expect for a DIY campervan, and some common questions from other people in your same position!
Welcome to the exciting adventure of converting a van into a functioning DIY campervan and surf rig. What's special about this build? You can complete it without breaking the bank, as long as you measure twice and cut once.
Before we get into the good stuff, I just want to set something straight: the information provided in this walkthrough is simply what I found to work for the type of build I wanted to create. Take this information as lessons and use it to your best ability within your own conversion. Happy to have you along for the ride, let's take a peek at some things you should know before getting your hands dirty.
1. How Much Does It Cost to Convert a DIY Campervan?
Great question! The cost of converting a van generally ranges based on the type of van you have, the features you want to include, and the quality of wood or supplies you choose to use. While some conversions can cost upwards of $30,000 or more, that doesn't always have to be the case. Most people don't want that to be the case, I know I didn't. So what did I do? I didn't make that the case—I sketched up a budget van conversion. It cost me between $2,000 to $3,000.
Here's an overview of what my DIY campervan build cost, including the price of the van:
Van: $10,000
Tools: $200
Supplies: $2,000 – $3,000
2. What Kind of Experience Do I Need to Convert a DIY Campervan?
None. No really, you can be a complete rookie and still complete a build no problem. I'm telling you this from personal experience. When I purchased my van, I had no previous woodworking experience and I didn't own a single power tool. It's mind over matter. If you're determined to build your dream rig and have complete freedom, you'll dedicate yourself to learning the ropes.
3. How Long Will a DIY Campervan Conversion Take?
Similar to the cost of a conversion, the length it will take to complete your build depends on a few things: 1) the amount of time you have to work on the conversion each day 2) how many features you want to include in your build. While you may feel ambitious in the beginning, your completion date will likely be further out than you originally anticipated. Some people are able to finish a build in a few months, while others may take a full year.
Here's how you can speed up your conversion:
Convert your van during the summer when the days are longer and you have more sunlight
Get some extra hands on deck! If you're able to have one or two people help you, this will make the process move more quickly.
4. How Do I Decide What I Want To Include In My DIY Campervan Conversion?
Most van conversions will vary from one to another. Different people have different features and requirements they want in the van. If you are unsure where to start, do some research on Instagram and Pinterest. There are loads of vans out there in the world that you can use as inspiration. But at the end of the day, make sure what you include supports the adventures you partake in.
Personally, I went on multiple camping trips in my van without anything built beside the walls and carpet. This let me realize what types of features I really needed and wanted. Once I found something that would elevate my build, I'd come home and build it. After completing one piece, I'd go on another trip and find out what else I wanted to have in the van. I repeated this process until I felt I had built everything to support my travels.
One thing that everyone should focus on while designing their layout is the use of space. Vans don't have a ton of room, so it's important to put your best Tetris hat on and make everything fit like a glove. Storage is key; find ways to combine functions in a multi-purpose way so that you can maximize your space.
Everything you need to know to prepare your van for a conversion, plus how to get started on your interior insulation.
Before you really start to get to work, you need to make sure you have a completely blank canvas. Rip out anything left behind from the previous owner and give it a good wipe down.
1. Remove Pre-existing Fixtures From the Van
If you purchase a van with a clean shell on the inside, consider yourself lucky. It's hard to come by vans that are ready to build. If you're like me, then your van will have leftover fixtures from the previous owner. I purchased my van from an electrician, so the inside was full of industrial shelving and cabinets to fit an electrician's workday.
The first thing you'll need to do is take anything and everything that doesn't belong. But don't throw it away immediately. If you buy a van with shelves or any fixtures that are still in good condition, you may be able to pocket some dollars. I was able to sell the shelves, ladder rack, and pipe box that came with the van, and I made a profit of $800. This was a huge help with the overall conversion costs.
2. Make the Van's Inside Shell Squeaky Clean
If your van is at least a few years old, it's likely that it's caked with dirt and dust that won't help your build last long. Get your hands on a shop vac and a small broom to start. Once you've cleaned the van of all the dust, it's time to wipe the floors and walls with surface cleaner. While this is a small step, it's important to not skip over.
3. Begin Insulating
There are several ways to insulate a van out there. The right insulation for your van likely depends on the weather you will encounter on the road. Here in California, rain and cold temperatures are not something to worry about. While I want to be warm in the van, the perfect insulation job was not a high priority for me. I decided to use denim insulation that I purchased at Home Depot for $40 per roll. This build only took two rolls worth on the insulation.
However, if you anticipate experiencing a lot of rain and wet climates, I don't recommend denim insulation because of the potential for mold. There are several other insulation methods you can use for your build, including reflectix and Super TUFF-R Insulation.
From choosing your paneling to preparing the inside frame of your van to cutting and securing your walls, this section has you covered. The ceiling and walls of your DIY campervan conversion will really make it feel more like a home and less like a van.
Your ceiling and walls play a large part in the look of your van. Consider what colors you want on the inside and what material you want to use.
1. Choose Your Paneling
Just like the rest of my build, I went the budget route for my ceiling and walls. Instead of using individual pieces of wood to create slats, I bought 8'x4' paneling from Home Depot. Each panel ran me about $25, and I used 5 panels total to complete the ceiling and all the walls.
If paneling doesn't float your boat, that's totally fine. There are several different ways you can cover your walls. Some include tapestries, individual pieces of wood, or large sheets of wood.
2. Prepare the Inside Frame for the Panels
Before cutting my panels to size, I needed to create places where I could drill my panels into the van. Instead of drilling the panels directly into the inner shell of the van, I first drilled horizontal 3x1s along the inside. This gave me a surface area where I could drill the ceiling and walls without worrying about it puncturing through the van's shell.
Read this: Be extra careful when drilling directly into the van's shell, whether that's a 3×1 or a panel. There should be areas where you can drill without going through the other side. The last thing you want is to drill a hole into the side of your car.
3. Stain Plywood or Paneling
Before cutting your wall panels to size, pick out your color and get to staining. I chose to stain before cutting them to size, but, honestly, either way will do. Do what you're more comfortable with.
Be sure to apply enough coats of stain. Once your walls are up and the floor is in, it will be challenging to patch up any missed spots without ruining something with a little bit of spilled wood stain.
4. Cut Plywood or Panels to Size With Template
When you're preparing to cut your panels to size, make a template of either wall and any obstructions, such as wheel wells or gas tanks. On either side of my van, I had to deal with the wheel well, along with the gas tank on the left side.
There are a handful of ways you can create a template to cut your panels to size. I decided to be gutsy and measure and cut the wheel wells, gas tank, walls, and ceiling without using a template. While I got lucky, if you want to ensure perfection then I recommend using something like cardboard boxes to create a template of your walls.
5. Secure Walls and Ceiling Using Screws
The final step for the walls and ceiling is securing those suckers onto your van. In this build, I used normal wood screws and drilled the panels directly onto the 3x1s I installed as an inner frame.
This step is best done with extra hands on deck. Use some friends or family to help you hold the walls and ceiling up while you drill them to the van. Or if you're like me, you can try and do it without any help. But honestly, I don't recommend that.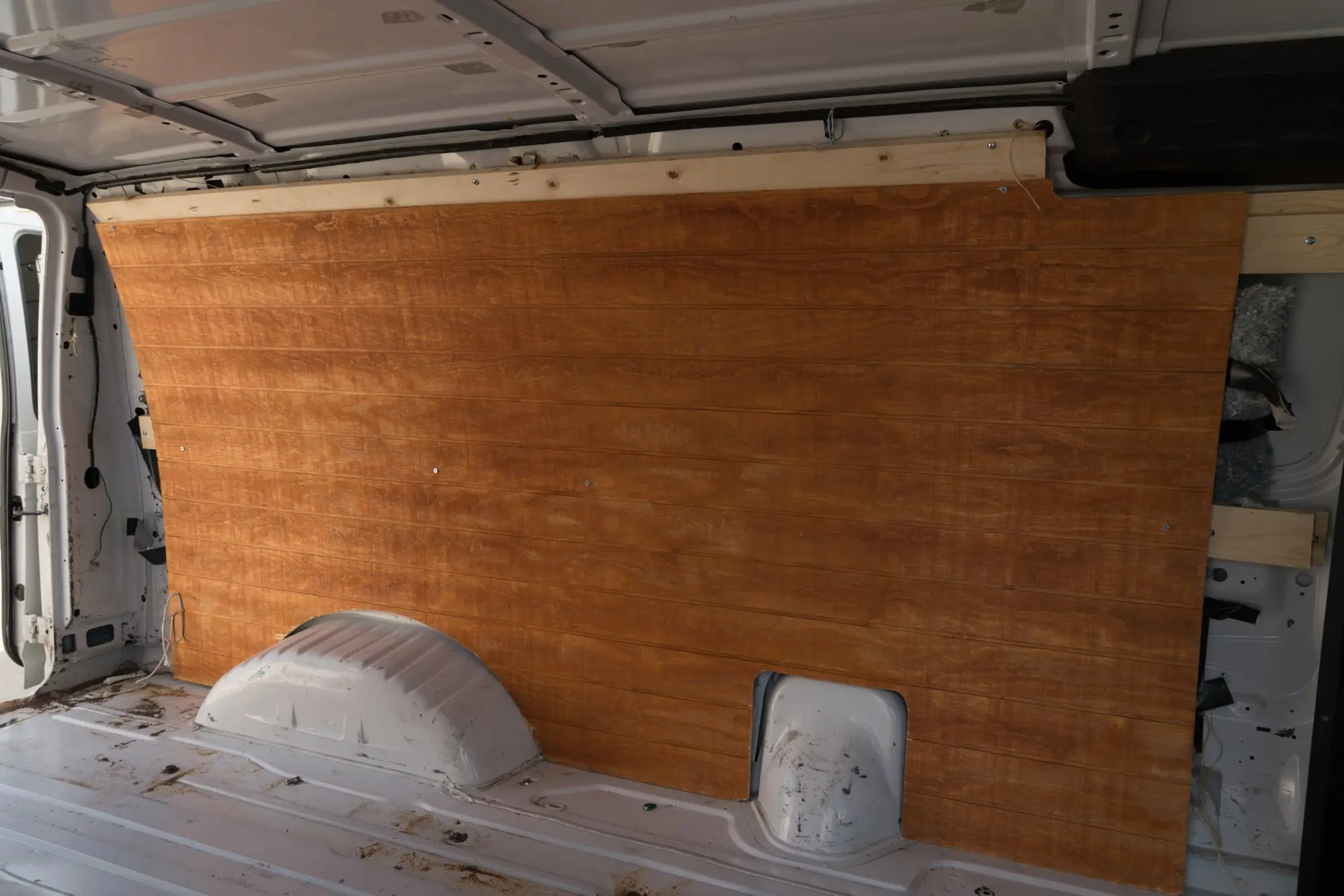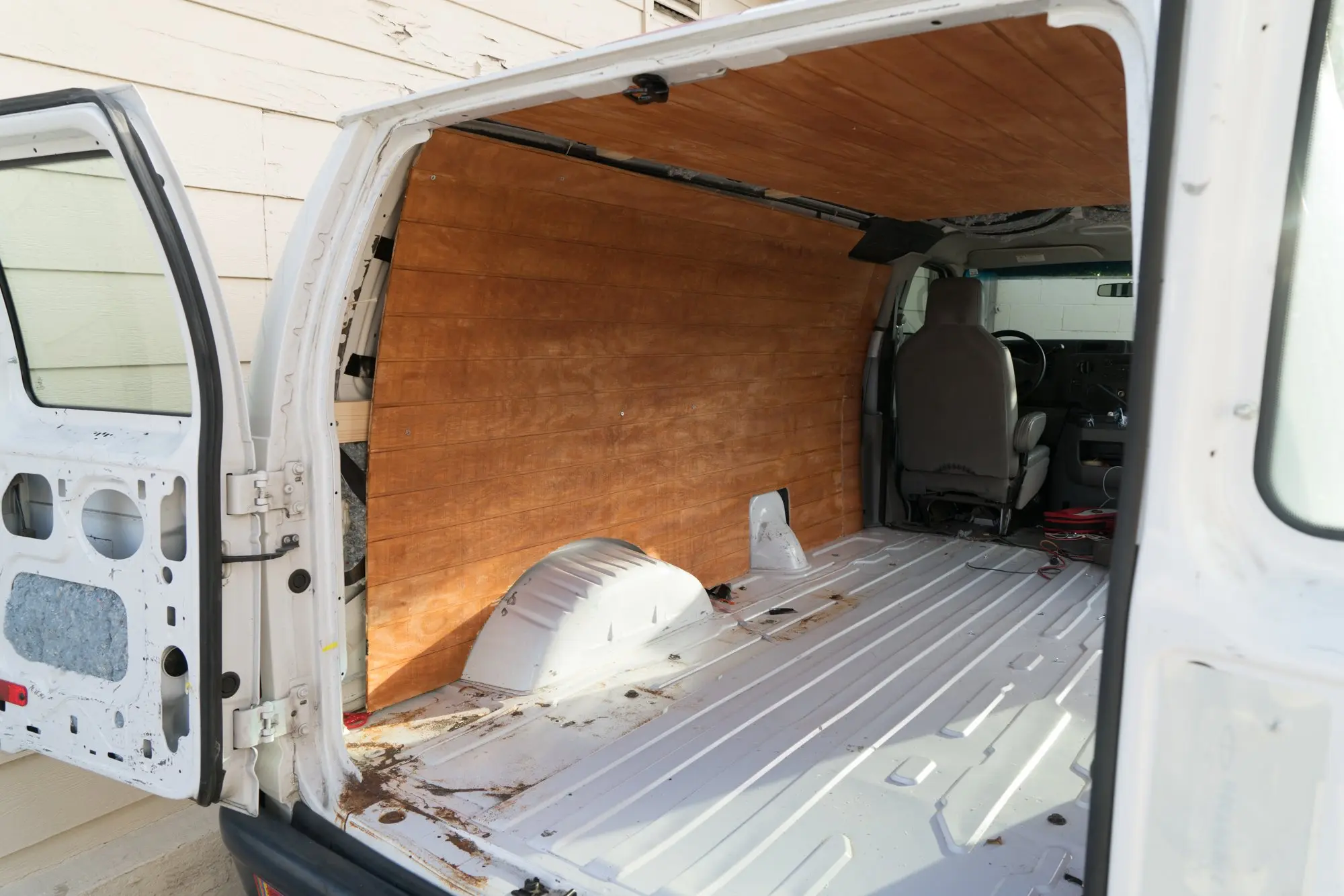 An in-depth look at how to attack your flooring and decide which material is best for your build—hardwood or carpet. In my Ford E-150 van conversion, I chose carpet, which some may think is crazy.
Are you a hard floor kind of van lifer? Or, do you prefer something a bit more cozy and vibey? Now's your time to decide. Either way, the floor will help tie all the loose ends and make your van feel like a home.
1. Choose Your Flooring
The type of flooring you want to use in your van is up to your preference. Do you want something easy to clean? Do you want something that's comfortable to sit or lay on? These are some of the questions I asked myself when choosing my flooring.
I decided to go with shag carpet, not something typically found in most van conversions. The most common type of floor people use in their conversions is laminate flooring. Laminate is easy to install and even easier to clean. However, that wasn't a high priority for me.
I wanted something that felt like home. I wanted a floor I could sit on and lay on without needing to put a pad underneath me. Remember to choose something that fits your type of adventure.
2. Use Floor Template to Cut Flooring
Because I chose to use carpet in my conversion, all I needed to do was make one large template. This template would allow me to cut my piece of carpet to fit my van like a glove. You can either use cardboard or some sort of art parchment paper to make this template.
If you're putting carpet in your van like me, be sure to cut from the bottom of your carpet and not through the top layer. This will make the cut run much more smoothly.
If carpet isn't your cup of tea, that's okay. There are several videos on YouTube that can give you a decent walkthrough on how to lay laminate flooring down in your van.
3. Lay Flooring
Once you've created your floor template and cut your carpet to size, it's time to lay the floor down. In my conversion, I didn't use anything to secure the floor to the ground immediately. Instead, the floor was secured to the van once I built my bed/dinette and kitchen cabinets.
Saving space is extremely important during any DIY campervan conversion, not just a Ford Econoline van conversion. This bed and table design will help you do just that.
Having a place to sleep in your rig is important. Choosing a bed design that has multiple functions is even more important. Use my dinette design if you want a multi-use bed design.
1. Cut Two 2x1s To Create Support Beams
This might be a little challenging at first since your van walls may be somewhat curved. But to start, you'll need to cut two 2x1s the width you want your bed to be. After you've cut these two pieces, level them against your walls and drill them in horizontally.
In my van, I chose to make my bed the size of a full bed, so these pieces were 54 inches each. I also chose to sleep "short ways," meaning my head and feet rest on the wall side of the van. I chose this setup to create more room for kitchen cabinets. However, if you prefer to have a longer bed, you can cut the 2×1 support beams to be the length of your bed instead of the width.
2. Make Six Right-angle Supports for the Benches
Once you've drilled in your support beams, it's time to create the supports for your benches. To do so, you'll need to cut six 2x4s that are 12 inches long and six 2x4s that are 23 inches long (or longer if you want your seats to be higher).
Once you've cut the 12 pieces of wood, take one 12 inch 2×4 and one 23 inch 2×4 and drill them together making a right angle, as shown below. You'll do this until you've made six "elbow" bench supports.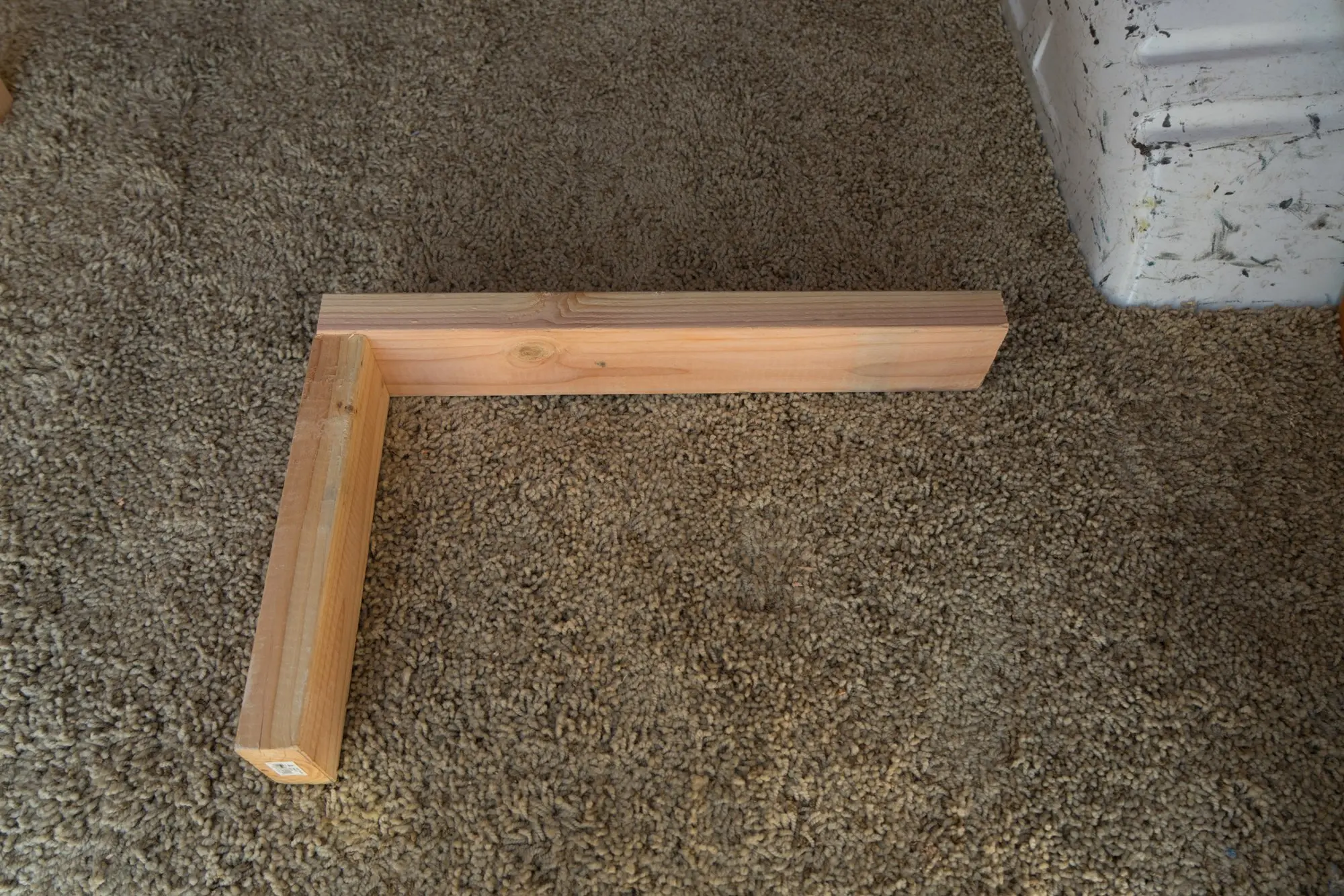 3. Drill the Elbow Supports Onto the Wall Support Beams
After you've built your 6 "L" shaped supports, it's time to secure them to the wall support beam. This step should be rather easy. To start, space the supports out evenly along the wall support. One support on each end and one directly in the middle. Using two wood screens for each support, drill through the top into the beam. You will need to repeat this for all six "L" shaped supports.
4. Make a Template and Cut Plywood to Cover Seats
Similar to installing your flooring and walls, you'll need to make another template (or measure perfectly…yikes) to measure around your support beams and create pieces of wood that will finish off your seats. For my build, I used a large poster board (you could also use cardboard) to create a template. This template will allow you to make perfectly cut pieces of wood for your seats.
Once you have the template of your future seats, it's time to cut the wood. I used general plywood to build my seats. If you prefer a nicer cut of wood, that's okay too. Regardless, you'll need to cut two end caps, one front piece, and the top, which will eventually become the top-loading cabinet door.
Tip! When you're making a template for the top piece, which will be the cabinet, make it wider than the top of the support means to create an overhang/ledge you can use to grab onto when opening the boxes.
5. Drill Plywood Onto Support Beams
We're almost there! The hard stuff is over, phew. Once you cut your eight pieces of wood (four for each bench), it's time to attach them to the support beams. Start with the four end caps, and drill them in on each corner, using a total of four wood screws for each end piece.
After you've finished attaching the end pieces, drill the front pieces on to the support beams. You'll need six wood screws for each front piece of wood, which means a total of 12 screws to complete this step.
Before drilling on the top piece, we need to make a special cut for the hinges. We will look at this in the next step!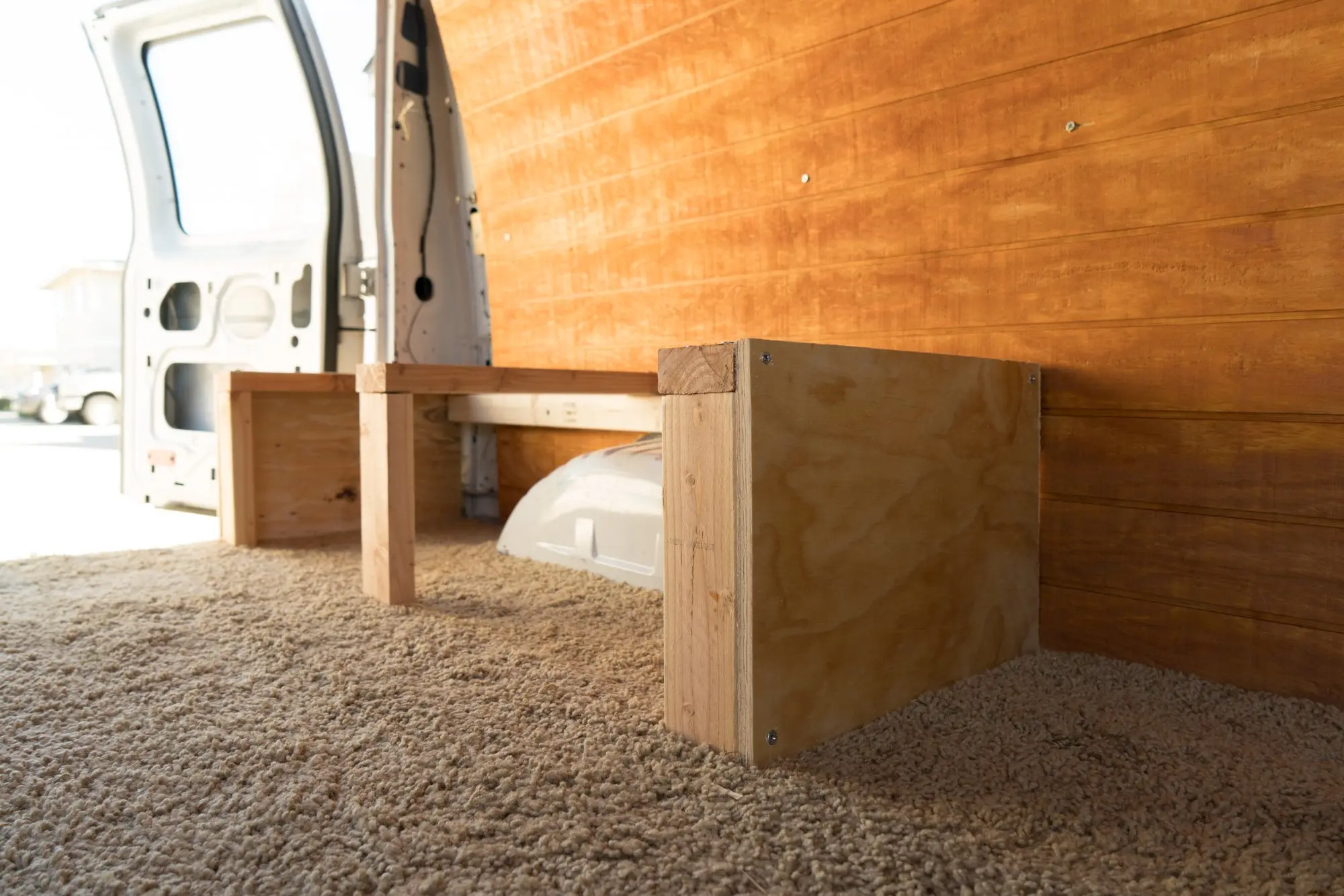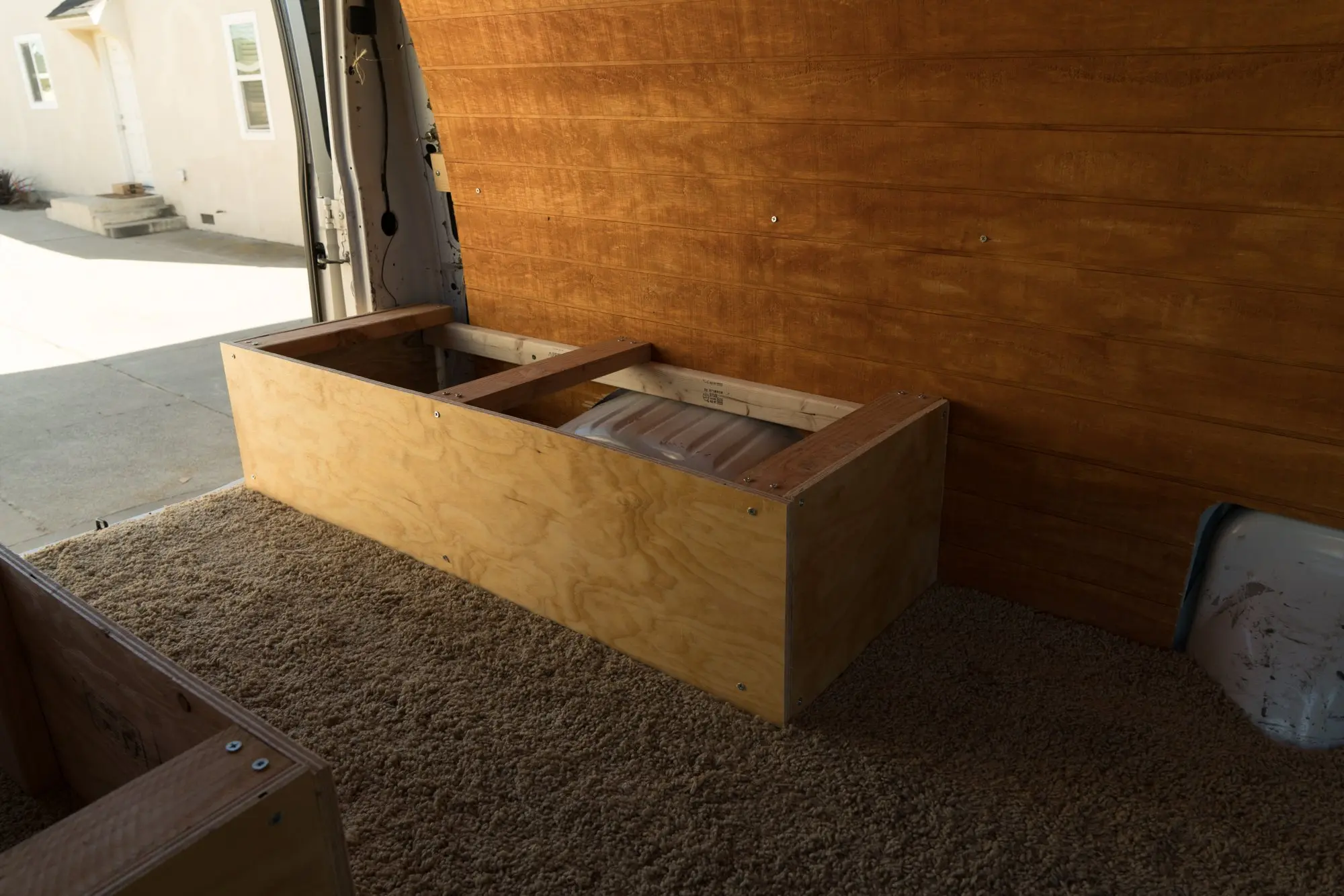 6. Cut the Top Panel and Add Door Hinges
Before attaching the top piece, you'll need to make a specific cut, which will create space for hinges and the door to open. Lay both pieces on the top of the box, then measure about three or four inches away from the wall. You'll need to cut a three to four-inch piece to create a space where you can install the door hinges.
Once you've made that cut, drill the small piece (three to four-inch piece) onto the top support beams. After you've drilled that on, it's time to attach the hinges to the small piece and the larger piece of the top panel. I used four standard door hinges for each box. The look of the hinges may not matter as much because they will eventually be covered by a mattress.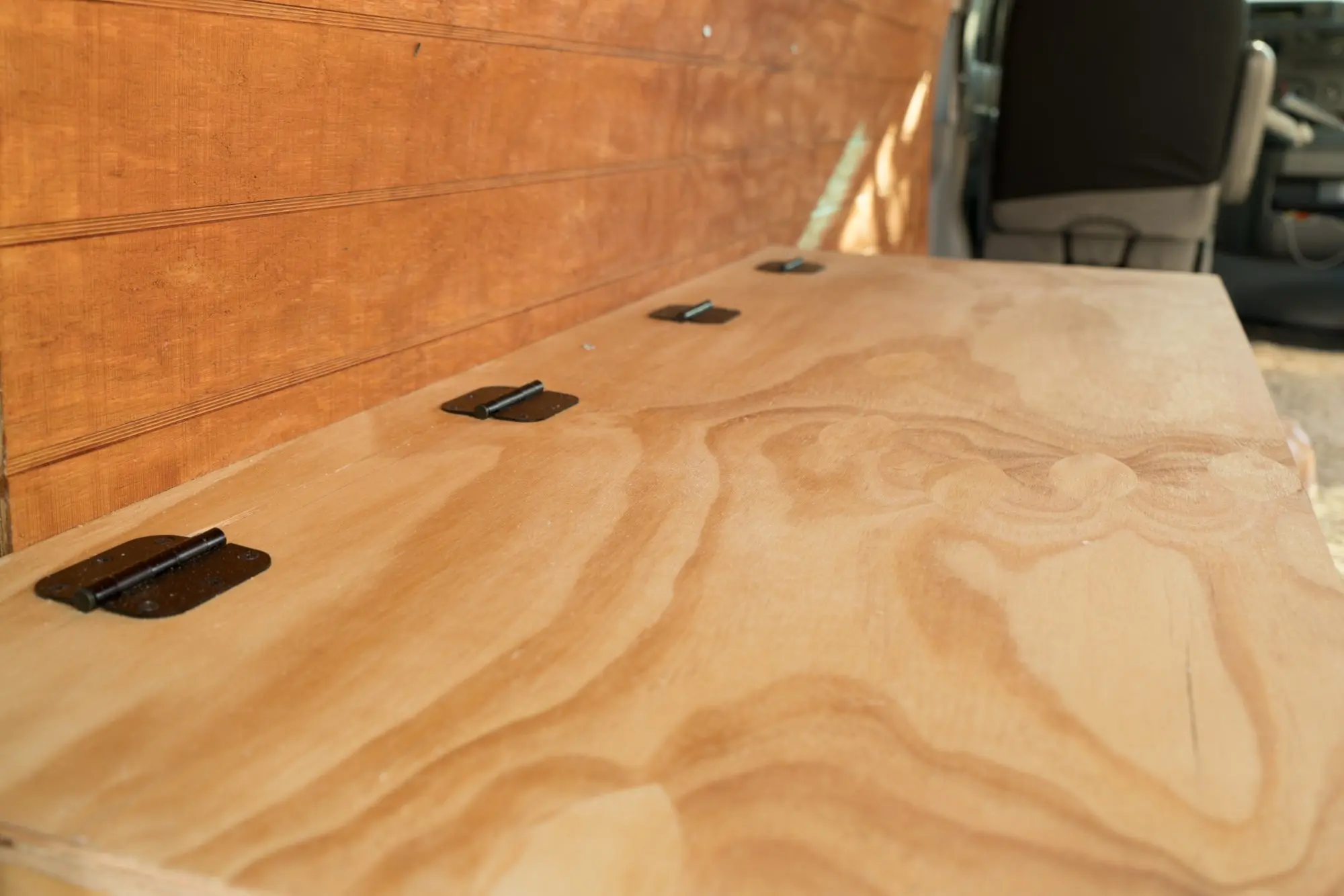 7. Cut Plywood to Create Table & Final Bed Support
Once you've completed the seats and top doors, it's time to build the table, which will also serve as the final bed support. To start, drill two 2x1s along the inside of your benches to create a ledge for the table to rest on when your dinette is collapsed. After you've drilled those supports on, it's time to measure the width of your bed to create your table.
Cut a piece of plywood that fits perfectly in the middle that you can use as your table and the piece to complete your bed. After you've cut the length of the table, I suggest cutting another six to eight inches off the end so people can get in and out of the seats without hitting the edges. I also rounded and sanded the corners of my table both for looks and safety.
8. Drill Bases Into Floor and Bottom of Table
One of the last steps of the bed design is to drill table bases into your van floor and the bottom of your table. In the photo below, only one table base shows. However, this didn't support the table well enough, so I ended up adding two bases equal in distance. I used metal screws to drill the bases directly into the floor of the van and wood screws to drill them into the bottom of the table.
9. Add Mattress and Cover With Canvas
The final step of the bed design is to purchase a mattress that will fit your van. However, I found it's extremely difficult to find the perfect mattress. So, instead, I purchased a foam, full-sized mattress off of Amazon and cut it to size. After cutting it to size, I got canvas from a general fabric store and pinned it on with safety pins.
You will need to make four cuts in total when it comes to your mattress. Two of the cuts should be the same size as your seats and the other two should equal the width of your table when you put them side-by-side. This will allow you to have backrests and complete the bed setup when your table is collapsed.